Established in 1998, Digital Advantage is a team of editors and software engineers formerly with ASCII, a leading Japanese technology publisher. For more than seventeen years now, we have produced quality web content and useful Internet services & smartphone apps. We combine our expertise in providing valuable information with the latest software technologies to develop innovative content services.
Media
Since our founding in 1998, Digital Advantage has provided articles on information technology for leading web publishers in Japan.
ITmedia / @IT Forum
We publish several of our own web magazines as well, available on Atmark IT-related sites and elsewhere.


Windows Server Insider is a web magazine for IT managers of corporates based on Windows OS.

Build Insider is, to edge software developers, information that tickle the intellectual curiosity, it is a Web site that aims to transmission of practical and high-level information. Expansion of the Japanese software developer layer, with the support of interested support companies to strengthen, digital Advantage Inc. and operated.
Software & Service
We develop smartphone apps and Web apps which can find the nearest shop quickly using GPS & map system.

"Location smart" is a free iPhone / Android app that can find a lot kind of locations where you want to go. For example convenience stores and coin parkings, cafe shops, bank ATMs and so on.
Japanese major TV programs, magazins, and various Web sites have introduced this app. We have had more than 500,000 users!

Location smart WEB is a free Web application that you can find the place you want to go. This is a Web application version of Location smart iPhone / Android application. Location smart WEB uses web browser instead of iPhone / Android, so you can find the place without installing the native smartphone application.

This is our business service using Location smart WEB technology. Chain store owner can put "Find store" button (store locator feature) to their web site very easily by using this service.
Over 60 major domestic chain companies have already adopted this "One touch locator" service to their sites.
Contracted development for app and web site
By using our technology assets, we have developed some smartphone applications, Web sites, Web applications, as a contract development.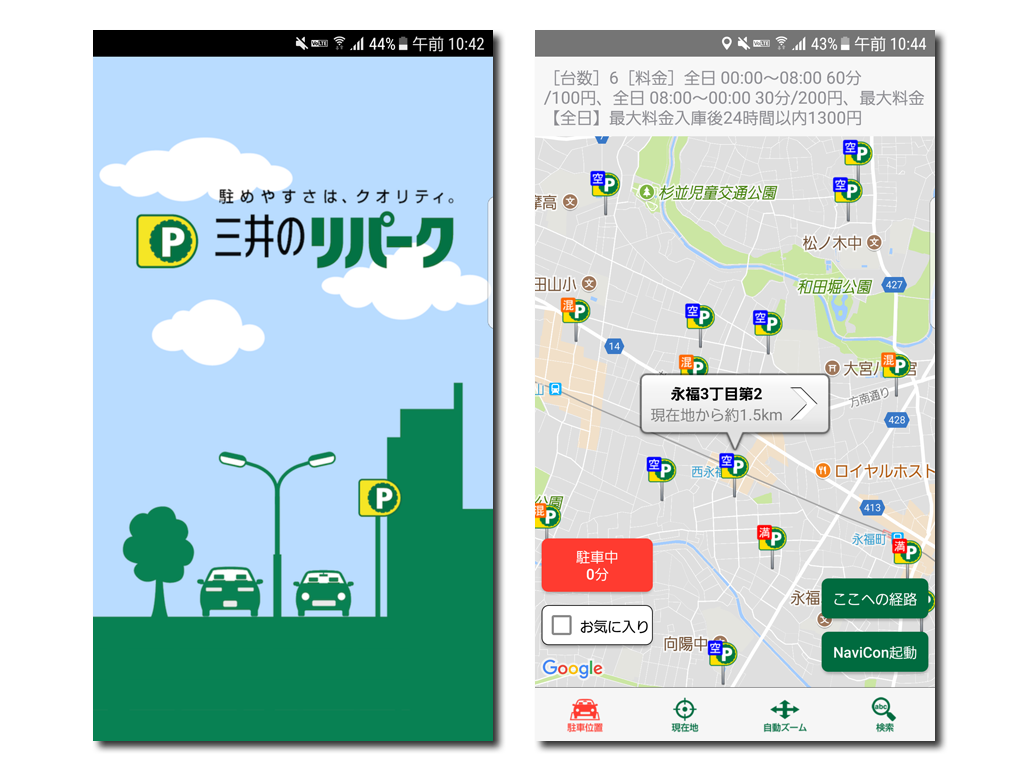 Mitsui's Repark Official App
Chain Stores' GIS
We sell chain stores' GIS information collecting from chain store companies daily, by our originally developed crawler program.
Store data is updated on a daily basis
We developed our own crawler that can gather store information from chain store web sites. We use the data to Location smart apps and Location smart WEB services. Basically the crawler launched every day and collect the latest store information. There are some venders who supply store GIS information, but no one can give you such a up to date information than us.
Follow major chain 9200, and 1,000,000 stores in Japan
Convenience stores and family restaurants, drug stores, supermarkets, coin parking etc, we have almost all major Japanese chain store GIS information. You can check the chain stores that we support with the button below.
20 yen per store
Selling price of the store information is 20 yen per point. The latest information of the time yesterday, you can purchase at any time point 20 yen.
* We apply the minimum selling price. Please check below for details "More Information (PDF)".
* We apply discount rate if you get regularly purchase the update data.

* Sales partner can sell the store data to their customers Web have the sales partner program. Please ask if you are interested in.
For more information about the data sales, please refer to download the following documents.